Postapo – přežití na území nepřítele aneb výlet s překvapením
Vezměte si jídlo, vodu na dva dny a věci potřebné ke strávení jedné noci v lese, izotermickou fólii, nůž, baterku a provázek. Tak zněla informace zaslaná účastníkům kurzu Postapo - přežití na území nepřítele.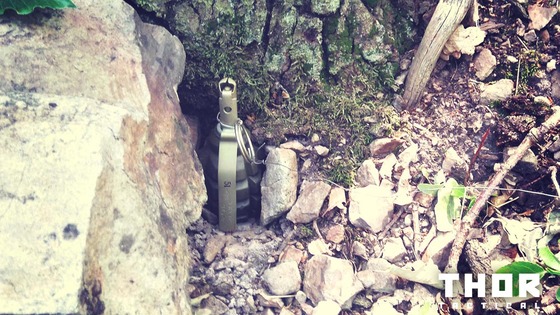 Foto: Momentka z kurzu Postapo – přežití na území nepříltele

Při psaní tohoto emailu jsem si vzpomněl na svoje klukovská léta, kdy jsme chodili na "vandr" s celtou, dekou, pouzdrem od plynové masky, kde jsme měli konzervy a jednu " feltlahev". Dělili jsme se pouze na ty, kdo měli německé "tele" a ty, kdo nosili "usárnu". Byl jsem zvědavý, co se za těch 35 let změnilo.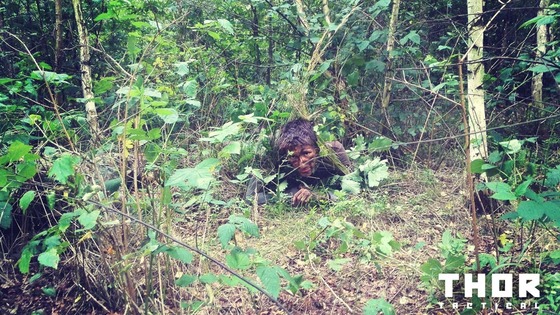 Foto: Momentka z kurzu Postapo – přežití na území nepříltele
To, že se toho změnilo hodně, jsem si všiml hned při příjezdu účastníků kurzu. Místo "telat" a "usáren", měli na zádech expediční batohy o váze více než 25 kg a kromě nafukovací panny s sebou měli snad úplně všechno. Světlou výjimkou byl jeden starší chlapík (53 let), který měl pouze malý batoh s nezbytnými věcmi.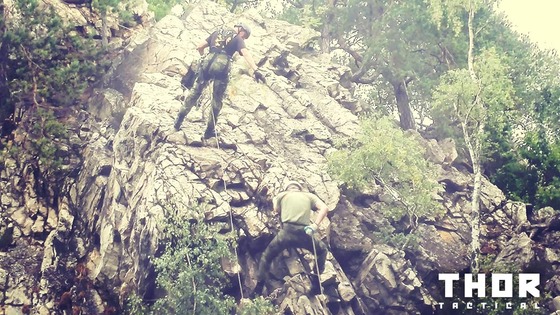 Foto: Momentka z kurzu Postapo – přežití na území nepříltele
V úvodní teoretické části se studenti seznámili se zásadami chování na nepřátelském území, jak přežít s minimálními prostředky a základy ochrany před protipěchotními minami a nástražnými výbušnými systémy. Hlavní důraz byl však kladen na navigaci a práci s mapou. Někteří studenti objevili takové zajímavosti jako je souřadnicový systém UTM, buzola nebo kompas.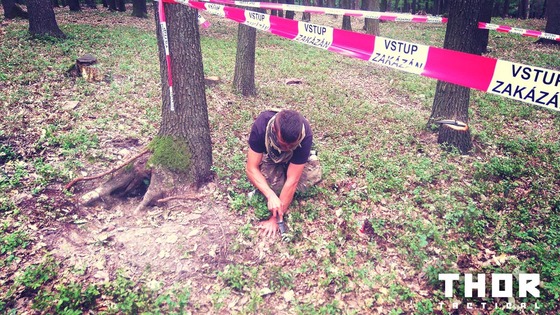 Foto: Momentka z kurzu Postapo – přežití na území nepříltele
Odpoledne začala praktická část. Studenti byli rozděleni do čtyřčlenných skupin a seznámili se se situací.
"Jste zaměstnanci české firmy a pracujete na území východní Ukrajiny. Vzhledem k nenadálému útoku povstaleckých vojsk se fronta posunula o 100 km západně a vy jste se nejen ocitli na území ovládaném povstalci, ale ještě jste se dostali zajetí. Povstalci vás chtějí použít jako rukojmí a budou vás převážet na neznámé místo hluboko na jejich území. Jediné, co se vám podařilo "ukrýt" při prohlídce, je izotermická folie, nůž, provázek a baterka. Znáte souřadnice záložního vojenského skladiště, které bylo vybudováno pro tento případ, a kde najdete vodu a potraviny. Také zde najdete spojení na záchranný tým a souřadnice místa, kde vás vyzvedne."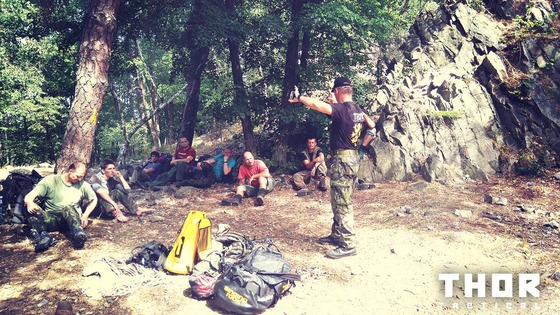 Foto: Momentka z kurzu Postapo – přežití na území nepříltele
Když si studenti uvědomili, že jejich obrovské batohy plné jídla a množství zbytečných věcí jim nebudou k ničemu, bylo v jejich očích vidět velké překvapení, které se ještě zvětšilo, když jsme jim při nasedání do vozidel zavázali oči. Auta se rozjela různými směry a nikdo ze studentů nevěděl kam.
"Došlo k nehodě, řidič je mrtvý, máte příležitost k útěku. Jste na území nepřítele, kde se pohybují nepřátelské hlídky, které když vás chytí, vracíte se na začátek - zpět do místa vysazení. Dělejte, co umíte." To byla jediná informace, kterou studenti dostali poté, co se vozidlo zastavilo uprostřed lesa.
Prohledat vozidlo, sebrat vše, co se může hodit, rychle zmizet z dohledu, zjistit vlastní pozici a naplánovat plán přesunu k záložnímu skladišti, to byly první úkony, které museli studenti udělat, pokud chtěli uspět. Dál museli improvizovat, pohybovat se takticky terénem, vyhýbat se cestám a lidským obydlím, být opatrní před pátrači a hlídkami, které se pohybovaly krajem. A především najít záložní skladiště, přečkat noc v lese a dostavit se včas na místo vyzvednutí.
Většina studentů neměla příliš velké zkušenosti s navigací a "přežitím", celou noc jsme tedy očekávali, kdy se někdo ozve, že to nezvládá a chce domů. I celková délka přesunu, která byla okolo 30 km, jim na klidu a pohodě nepřidaly. O to větší bylo naše překvapení, když jsme se druhý den sešli se všemi a v pořádku.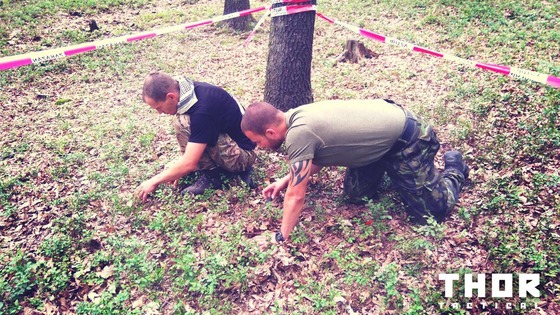 Foto: Momentka z kurzu Postapo – přežití na území nepříltele
Druhý den se skládal z praktického výcviku, nouzového slanění, odhalování NVS a min a také praktického maskování. Zde již byla znát únava z probdělé noci a tak na skálu někteří ani nevylezli. Na závěrečném vyhodnocení jsme se dozvěděli, že pro některé to bylo příliš obtížné, druzí by naopak přitvrdili. Celkem všichni se shodli na tom, že kurz byl nejenom zajímavý, ale byl i pozitivním přínosem pro jejich přípravu na zvládnutí krizové situace, do které by se mohli někdy v budoucnu dostat.
Svět kolem nás se mění, a aniž bych chtěl být škarohlíd, zvládnutí podobných situací se může komukoliv z nás hodit dříve, než se nadějeme. Ano, účastníci kurzu mohli raději sedět doma a sledovat v televizi zprávy o válce na Blízkém východě či jinde, či jak to dopadne se skupinou Čechů, zajatých v Libanonu. Raději si však vybrali možnost připravit se na možnost, že by se někdy ocitli na jejich místě a kdo ví, třeba to jednou někomu z nich zachrání život.
Pro přidání komentáře musíte být přihlášený.